JR.IT.CH DIETINGER'S ANGEL MY LOVE
(Pl.Ch.Vodka No Ice x Pl.Ch. Kouros Pensiero Stupendo)
Dob 02/06/2006

Angel... her graceful carriage and

free movement make her reall look like

an angel walking among people as

if nothing troubled her.

A true Afghan girl with a great temperament.

Bred by: Dietinger's

Owned by: Dietinger's
JUNIOR ITALIAN CHAMPION

2 R.CAC 2 R.CACIB

3 BOB 1 R.BOG
Pedigree
PL.CH. VODKA NO ICE

CH ALPHAVILLE'S TWICE A MAN

CH ALPHAVILLE'S FROZEN SEAMAN

CH TIFARAHS VICTORY COLORS

SCH NCH ALPHAVILLE'S SHESELLSSEASHELLS

SUCH ALPHAVILLE'S SHESUITSUS

SUCH KINGSLEAH SMOKE SIGNAL

SCH NCH ALPHAVILLE'S SHESELLSSEASHELLS

PL.CH. KOUROS MY WAY

CH SEAFARER SUMMERWIND

IRISH CREME

CH MAGISTELLE MORNING GLORY

CH SEAFARER SUMMERWIND TOPAZ

KOUROS DANCELITTLESISTER
PL CH BOXADAN QUARTERMASTER

BOXADAN PLAYMATE OF THE YEAR

PL.CH. KOUROS PENSIERO STUPENDO

KOUROS CANTOSOSPESO
CH IT KOUROS DREAMBOY
PL CH BOXADAN QUARTERMASTER

BOXADAN PLAYMATE OF THE YEAR

JOROG'Z HEARTMOVES

CH JOROGZ' HEART-BREAKER

CH JOROGZ' JULIANA

KOUROS HANNAH

CH SEAFARER SUMMERWIND

IRISH CREME

CH MAGISTELLE MORNING GLORY

CH SEAFARER SUMMERWIND TOPAZ

KOUROS DANCELITTLESISTER
PL CH BOXADAN QUARTERMASTER

BOXADAN PLAYMATE OF THE YEAR
> Litters <
> Gallery <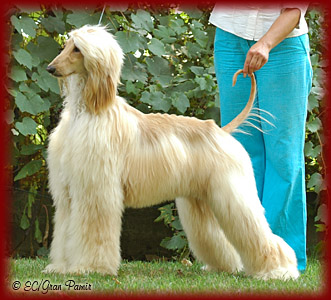 Some results and pictures:
01/05/2008 CLUBSHOW IN PADENGHE DEL GARDA
EXC. open cl.
judge P. Gallardo (E)
30/09/2007 INTERNATIONAL SHOW IN MESSINA
1° EXC. youth cl.
judge Ove Germundsson (S)
....very attractive bitch full of quality, exc.head, exc.neck topline and tail,
exc.coat, moves very typical. Very promising....
15/08/2007 NATIONAL CAC SHOW IN GRADISCA D'ISONZO
1° EXC. BOS youth cl.
judge Petru Munteanu (RO)
05/08/2007 NATIONAL CAC SHOW IN LAVENO
1° EXC. BOB youth cl.
judge Gabriele Dondi (I)
.....typical head and expression, well proportioned, correct body, good coat texture,
well carried tail, well angulated rearleg, elastic and typical movement...
03/06/2007 INTERNATIONAL SHOW IN TORINO
1° EXC. youth cl.
judge Palohelmo Annukka (FIN)
.....exc.type, good head, exc.proportions, good topline, good mouth, correct bone,
good rear, excellent mover....
14/04/2007 INTERNATIONAL SHOW IN SANREMO
1° EXC. youth cl.
judge Seymour Steven
....exc.type, very promising, pleasing head with good eyes placement,
exc ribcagefor age, correct topline, good tailset....
27/01/2007 INTERNATIONAL SHOW IN MILANO
1° Very Promising junior cl.
judge M. Teresa Durando Fassio (I)
....8 months old, extraordinary typical Afghan.
Excellent head, charming expression. Correct neck. Typical and well developed
body, croup and angulations. Good coat texture. Excellent movement.
07/10/2007 INTERNATIONAL SHOW IN ROMA
1°EXC. BOB 3BOG youth cl.
judge Johansson Karl Herik
..... exc type, very nice